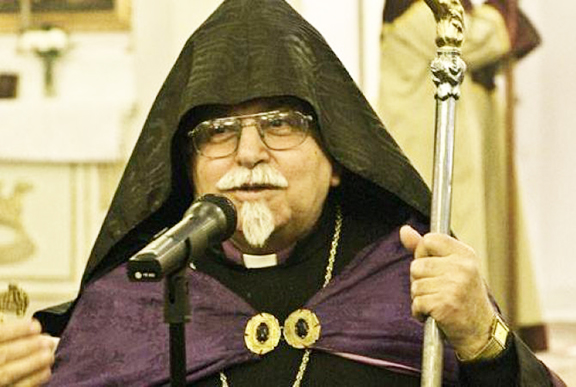 ISTANBUL—The elected Locum Tenens of the Istanbul Patriarchate Archbishop Karekin Bekdjian is leaving Istanbul after the city's governor demanded that the cleric's election be voided and forcibly reinstated Archbishop Aram Ateshian as Vicar-General and cancelled a planned election of a new Patriarch.
In parting statement Archbishop Bekdjian said that his arrival in Turkey was borne from a desire to end the transition period of nine years at the Patriarchate "and to contribute to the Patriarchate's legitimate administration."
"I was convinced that it would be enough to act faithfully and conscientiously on this subject, and that our Church and our Patriarch's choice would succeed. I understand how wrong I am right now," Bekdjian said.
"When I came to the office, I faced astonishing circumstances. The most important of these was the fact that from the first day the election process could not move forward in compliance with transparent, fair and fair election rules," the Archbishop said
"Another problem that I encountered was that the religious and lay people, who had a strong will, who knew the values of our history and our community, had lost a lot in comparison with the previous periods in Istanbul," he added.
"Dear brothers and sisters, recent events did not happen in a day. Unfortunately, this outcome, which seems to have targeted me, is actually intended to sabotage the 85th Patriarchal Election and is a product of a fairly long and planned campaign. This campaign started from the very first day of my election as the Locum Tenens. Dark campaigns reached very ugly dimensions. I'm afraid that this attitude will even aggravate and further corrupt our society," Bekdjian said.
The Archbishop said he hopes the experience will help the community make a better assessment of the situation and get a closer, better understanding of the characteristics of those who govern the community.
Bekdjian said that although unwillingly, he has to leave Istanbul after the letter of the Turkish Ministry of Interior.
"Conflict is not in my nature. My presence should not challenge new adversities for any reason and in any way in the Armenian community, which has already suffered a lot," he added.
Archbishop Bekdjian said he will pray for Patriarch Mesrop Mutafyan, his dear mother Mari Mutafyan and the beloved brothers and sisters. Mutafyan was diagnosed with dementia in 2008 and was place in his mother's care in 2016.