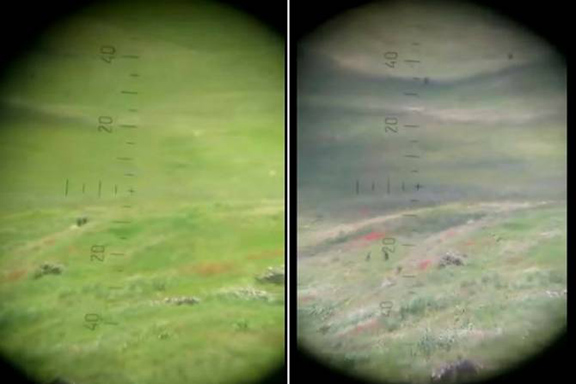 YEREVAN—Armenia's Defense Ministry on Tuesday released footage and photographs to debunk Baku's disinformation campaign alleging that Azerbaijani forces have made territorial advances on the Armenia-Nakhichevan border, with claims that Azeris had captured some 11 hectares (approximately 27 acres) of territory.
The focus of this alleged territorial advancement is the village of Gunnut, which Armenia's Defense Ministry spokesperson Artsrun Hovhannisyan said that the footage released by the ministry clearly shows that Armenian border patrol officers have complete control of the village and its ruins.
Hovhannisyan explained that on June 6 and 7, the Armenian government received an unprecedented official request from Azerbaijan asking permission for its citizens to visit relatives' graves at a cemetery at the southern tip of the territory in question.
The spokesperson said that the Armenian military, citing its commitment to humanitarian norms, eventually allowed the Azerbaijani citizens to visit the cemetery for a short period of time that was monitored by the border patrol units.
Unfortunately, he explained, that Azerbaijan seized on Armenia's gesture of good will and began distorting the realities on the ground, falsely claiming that it had "achieved control over those territories."
Also on Tuesday, the Artsakh Defense Minister release footage detailing the mobilization of Azerbaijani troops and military equipment along the different sectors of the Artsakh-Azerbaijan border, commonly known as the line of contact.